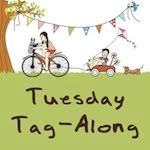 Sorry that I have been slacking on this whole blogging thing, but this weekend was crazy busy! We watched some of our friends kids while they went on a romantic weekend getaway to Paris. They have a 5 year old girl and 7 year old boy. (Oh, and a pug and something mix puppy!) We got them on Friday morning and kept them until Monday afternoon, so that explains why I have been short and sweet (if even that!).
On Friday, we laid around the house. We meaning me and the kids because Mr. Man had to work. On Saturday, we slept in since Mr. Man works swings and normally sleeps in on Saturday's until about 9am or so. By the afternoon, we were all rejuvenated and ready to hit something fun. That something fun was a carnival.
Every year, the base we live on hosts the annual Fourth of July Carnival/Festival. They have rides, food, games, etc. Just like any other fair, festival, or carnival. This year they decided to open it up a day early for 3 hours for the military personnel and their families to ride the rides for free. We took the kids. They rode every ride that they wanted to ride and played a couple of games. The kids also got a couple of snacks. After that we were exhausted. We still finished the afternoon outside. Mr. Man BBQ'd us some hamburgers and hot dogs while the kids played with the dogs and some random sticks in the yard.
On Sunday, we skipped church and took the kids to a safari park. It has a road safari adventure and a foot safari adventure. We did both. We did the road one first, and it was pretty darn cool. We drove through huge cages that housed many lions, tigers, bears, kangaroos, wolves, camels, monkeys, zebras, addax, etc. The monkey area actually had monkeys jumping and swinging from car to car. It was way cool!
Then the foot safari was pretty interactive. You could actually walk in with the ostriches, monkeys, lemurs, birds, etc. It was pretty awesome, too. We saw some baby ostriches, which I have never seen before. They had rules of course. There was no touching or stroking the animals even if they jump or land on you. It was quite interesting, but definitely pretty cool. The kids loved it. They walked away with a couple of stuffed animals. An alligator named Seaweed, and a sea lion named Clarissa. These kids name these things all by themselves!
Later that night, we put the kids to bed and Mr. Man and I stayed up playing Zelda on the Wii. While we were playing Zelda, the fireworks started going off. I ran to the window to see if I could see them and to see if they woke the kids, but they didn't. And I couldn't see them, so back to Zelda I went.
On Monday we took them to the park near the house. It is a new one with a Spiderman netting to climb up and in. It goes up very high. I was actually scared of it :) Later on, their parents came and picked them up.
All in all it was an awesome weekend. We had such a good time and felt so calm and peaceful even with kids in the house. They behaved well, listened to us, and did some fighting. Lessons learned for us!
UPDATE: I wanted to add that I am hosting my very first giveaway. It is a voucher for CSN Stores. You can find more information about it
here
!
And ask me questions, any questions! I need enough questions to be able to actually do a post on it. Give me your best shot
here
!