Woo hoo! I am attending my
third
Kindred Connection Party. The Kindred Connection is for anyone who has a blog that is based on "marriage, faith, family, homemaking, decorating, crafts, cooking, travel, saving money, style, and a little bit of everyday life," then you qualify to join The Kindred Connection.
Kristen at Windy Poplar
does a wonderful job at hosting this. To join, just click the button above, and it will send you to the original blog.
The questions are:
1. What is your cultural heritage, and is it a part of your life (eg. do you celebrate your cultural holidays, or have special traditions or food that comes from your heritage)?
I was born and raised in Southwest Louisiana. Anything past that, I have no idea, so I will stick with the Cajun culture. We are two Cajuns. People can point us out and know that we are from the south, including the English. We say "ya'll" quite a bit. I am sure my readers have already noticed that. We celebrate Christian holidays and Mardi Gras! I can't really think of any other holidays. I have been away from home for way to long. We love our food, like gumbo, boiled crawfish and crabs, jambalaya, fried okra, boudin, King Cake (oh I love King Cake!), and red beans and rice with sausage. Oh gosh, I miss home now!

2. Give a short description of your vision for your blog.
Really, my blog is a place for me to speak my mind and get my emotions out without getting winded. I have it opened for others to read and follow because I (just like anyone else) enjoy having the support and encouragement from others that can (or can not for that matter) relate to me, my life, or my emotions. I love getting ideas and advice when new things come my way.

3. What is one thing you are really enjoying about spring?
I love that the sun has started to come out earlier this year. Last year, we had snow on Easter. This year it was nice for the sun to come out earlier. I also love the poppy flowers and the daffodils that always blooms here.

4. Do you have an idea to share about something we could do today to bless our husbands/boyfriends to let them know they're special?
Everyone that has their husband right there by their side everyday should be thankful and appreciative. I really have no ideas of what you could do for your husband, except appreciate them and do not take the time you have with them for granted because there is always someone out in this world that can only wish and dream about their husbands being by their side. If you do not cook for them, give it a try. Buy them something simple that they have been needing or asking for. Rent movies and snuggle on the couch for the night/evening. Do anything to show your love for them.

5. Are you involved in any social club (garden club, dinner club, book club, etc.) - or would you like to be?
I do not belong to any of those. I know this sounds horrible, but I do not have the time to be "clubbing" it up. I am a part of a couple of volunteer groups. I am a Key Spouse for Mr. Man's squadron, and I am also a part of the welcoming committee for the new spouses that PCS here. I do love to read, though. I am out of books currently, so I can take suggestions on what to read. I wish I had a green thumb for planting and gardening. I did when I still lived with my Dad ages ago. We have a vegetable garden, and I loved it. When we retire, we will definitely have a garden. I miss my rose bush in Texas, too.
Tuesday Tag Along: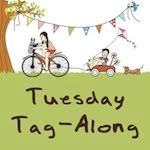 Go
here
for the details!