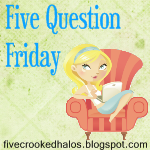 Go link up and join the fun over at Murdock's Mama's Five Question Friday! The only rule is to answer the questions and have fun!
1. If you had $1,000 to donate to a charity, which would you choose?
St. Jude's or the Ronald McDonald House.
2.
Snow days: Do you welcome them happily or are they a pain in your butt?
I love snow days! I love winter. I love the white-ness! It's my favorite time of the year!
This year (technically last year-Dec. 2010) while we were driving to the tube to go to London, it started snowing like cats and dogs. Mr. Man was driving and the traffic was stopped. Mr. Man was debating on turning around, but I was all smiles and enjoying the snow. I wanted to get out of the car while it was stopped and just play it. There was tons of snow!!
3.
What talent did you wish you had and why?
I wish I could sing or play the piano. They both seem so relaxing and fun at the same time.
4.
Are you a news, politics or celebrity gossip junkie?
No way! Drama in general is not for me, so that covers the celebrity gossip. News and politics really do not interest me unless they are funny or something about Education. Education part only because it's my major, and I like to know how it is evolving. News part... is boring to me! Except when I saw this woman "WWD" (walking while distracted) and fell right into a fountain in a mall. Then turned around and tried to sue the mall since no one went to her help. BAHAHA! That cracked me up!
5. What is your favorite "cocktail"? (Are you a beer person, a kiddie cocktail junkie, or perhaps your more the "Cosmo" kind?! Anything flies...doesn't
hafta
be alcoholic!)
To be honest, I do not have a favorite alcoholic or even non-alcoholic drink. But I
can tell you that I love margaritas... and strawberry daiquiris
when we are out at restaura
nts.